Welcome to the Straw Hats Pirates! Five of the main characters in the upcoming live-action adaptation of the famous manga-turned-anime series "One Piece" are finally here!
In case you missed it, Netflix has finally revealed the cast of its five main characters in the most-anticipated live-action adaptation of the iconic manga-turned-anime series "One Piece"!
The Straw Hat Pirates will be played by Iñaki Godoy ("Who Killed Sara," "Go, Youth!"), Mackenyu (Rurouni Kenshin: Final Chapter"), Emily Rudd ("Fear Street"), Jacob Romero Gibson ("All Rise"), and Taz Skylar ("Villain," "Boiling Point").
Godoy will star as the Pirate King, Monkey D. Luffy, Mackenyu as Roronoa Zoro, Rudd as Nami, Romero Gibson as Usopp, and Skylar as Sanji!
Handpicked by "One Piece" author himself, Eiichiro Oda, who is also one of the show's executive producers, the main stars of the upcoming live-action series of one of the longest-running manga series and most popular manga-turned-anime are set to embark on a journey to the East Blue!
Netflix's One Piece Twitter account shared a special message from Oda to the One Piece cast. The message reads: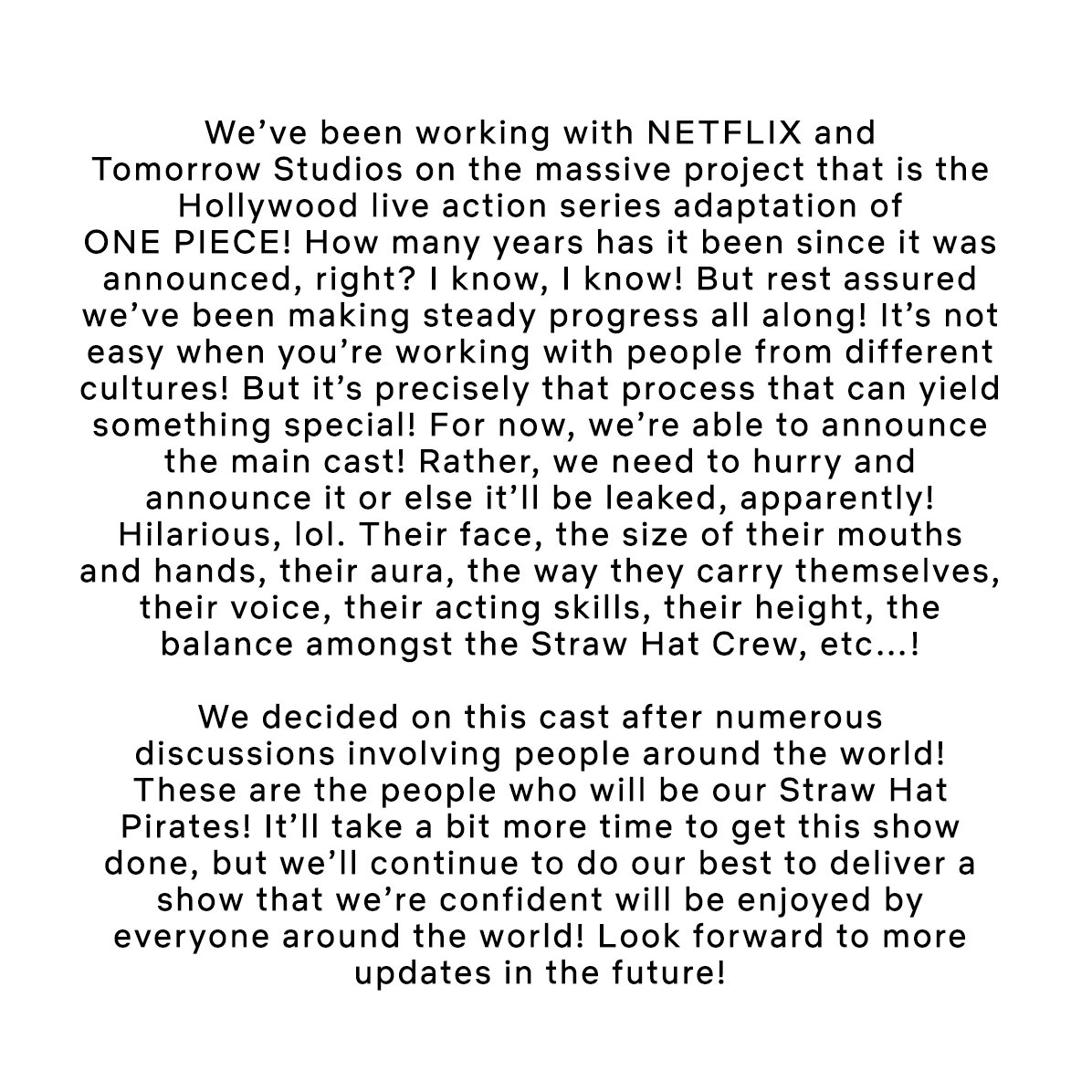 Photo courtesy of One Piece Netflix (@onepiecenetflix) on Twitter
The cast can't help but feel excited about taking on the roles of the characters, as well! They announced their designations on their social media pages and surprised fans with the revelation.
Godoy, who will be starring as Moneky D. Luffy shared the cast's introduction clip and proudly claimed that he'll be playing as the Pirate King.
I WILL BE THE PIRATE KING !!! @onepiecenetflix pic.twitter.com/UvWXqiCvMC

— Iñaki Godoy (@InakiGodoy) November 9, 2021
On the other hand, Mackenyu announced his role as the brave swordsman, 'Pirate Hunter Zoro.'
I am thrilled to announce that I'll be playing ZORO in the upcoming live action Netflix series ONE PIECE.
☠️#OnePiece #Netflix pic.twitter.com/zSnRGpv3NT

— Mackenyu 新田真剣佑 (@Mackenyu1116) November 9, 2021
Rudd expressed her gratitude and shared that taking on the role of Nami is 'a dream.'
can't put it into words. thank you thank you thank you. this is my dream pic.twitter.com/aSGAYXUlFv

— emily rudd (@emilysteaparty) November 9, 2021
Meanwhile, Taz Skylar, who will be starring as the Straw Hat Pirates official chef, Vinsmoke Sanji, also expressed his thanks to Netflix for trusting him to bring the character to life.
Romero Gibson, on the other hand, penned a thoughtful and artistic poem as a caption in his social media post to express his joy in starring as Usopp, the Straw Hat crew's jack of all trades and sniper.
View this post on Instagram
The Japanese manga "One Piece" follow the story of Luffy, a young man who journeys East Blue to search for the celebrated "One Piece" treasure and claim the title of king of pirates.
"One Piece" fans are surely in for a wild and exciting ride! Earlier in January, Netflix announced that the series will run for 10 episodes.
Who's excited for the "One Piece" live-action series?