President Rodrigo Duterte's approval rating in handling several national issues saw a significant drop according to the latest Pulse Asia survey released on Tuesday, October 5.
Pulse Asia surveyed some 2,400 respondents from September 6 to 11 and found that the administration's approval rating on 10 key national issues dropped from June to September 2021 and year-on-year.
The biggest drop was seen in the government's efforts in fighting graft and corruption. From a 64 percent approval rating in June, the number declined to 52 percent in September, recording a 12 percent decrease.
In terms of protecting the welfare of overseas Filipino workers (OFWs), the government scored 7 points lower, dropping from 73 percent in June to 67 percent in September. The approval rating of enforcing the law on both influential and ordinary people also saw a 7-point drop from 67 percent to 60 percent.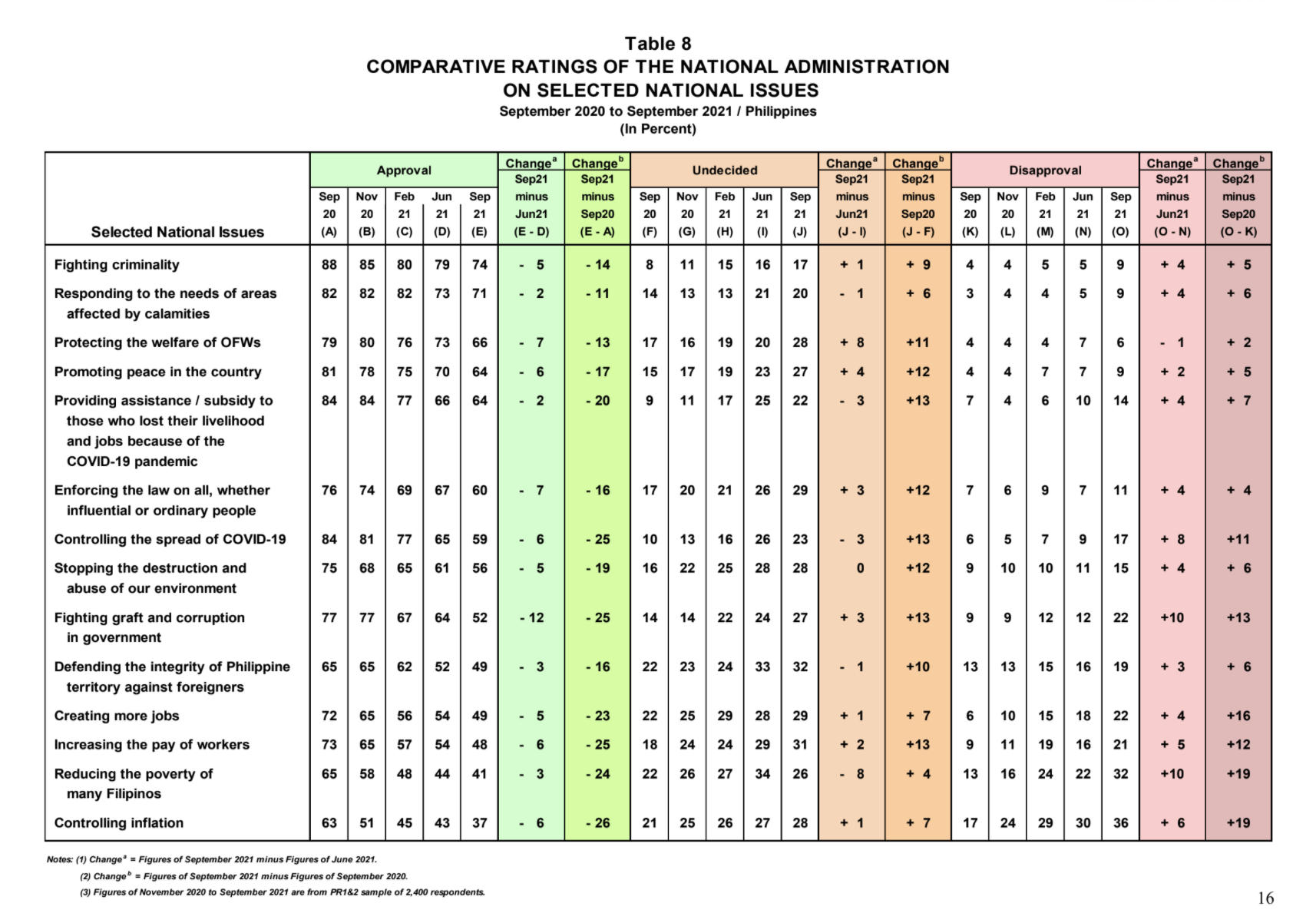 Meanwhile, in terms of addressing the COVID-19 pandemic, the government scored 59 percent in September, 6 points lower than 65 percent in June. Likewise, the administration also scores 6 points lower in promoting peace (from 70 to 64 percent), increasing the pay of workers (from 54 to 48 percent), and controlling inflation (from 43 to 37 percent).
A 5-point drop was seen in terms of fighting criminality (from 79 to 74 percent), stopping the destruction and abuse of the environment (from 61 to 56 percent), and creating more jobs (from 54 to 49 percent).
The Duterte administration scored 3 points lower in defending Philippine territories against foreigners (from 52 to 49 percent) and reducing poverty (from 44 to 41 percent); and 2 points lower in responding to the needs of calamity-hit areas (from 73 to 71 percent) and providing assistance to displaced workers amid COVID-19 (form 66 to 64 percent).
Year on year, the government's approval rating also plummeted, with controlling inflation having the biggest drop from 63 percent in September 2020 to 37 percent in September this year.